As the COVID-19 pandemic continues to worsen day by day, I have been staying at home and making as many masks as possible to donate to hospitals. It is also a good chance for me to make new friends who are also sewers, and they are cutting all the fabric they have in hand – bed sheets, old shirts, pants – to make masks. I believe that although we are not frontline workers who directly fight against the coronavirus, we can help.
Not long ago, I came across a video on Facebook (and I forgot to save the link) of a group of scientist in Czech. They explained why Czech seemed to be quite peaceful in this COVID-19 crisis. They did everything similar to what Canada, the U.S and other governments do: telling people to stay at home, practice social distancing, cough/sneeze etiquette. But one thing that they did differently: requiring everyone, yes, everyone, not only the ones who were already sick, to wear mask when they are out. They proved that 95% of the droplets emitted when someone cough or sneeze are caught inside the mask (no matter if it is a medical grade mask, or a simple homemade mask). And when everyone wears mask, people are protecting each other from the pandemic. Thousands of people in Czech have started sewing masks at the early stage of the pandemic, and everyone in the country was provided with masks.
I also believe that this is a great way to prevent the spread of the COVID-19. After all, if we all wear masks, I protect you, you protect me, and we can all win. That's why I have been making masks an give them away. I hope that we can all have at least a few masks to wear, not only to protect ourselves, but also protect others.
I also give out materials to local sewers in Toronto to make face masks. I do not have much, but some elastic, non-woven fabric, nose wire can help people, and I am happy about that. I also sell them in my small shop for just a small amount of money to cover the cost of me buying them and giving out.
I am so touched when I receive little gifts from other sewers who came and take the elastic or nose wire hung in front of my door. And I am happy to make new friends in this difficult time (although we never really meet because of social distancing). This really helps me to overcome the boring days inside the four walls.
By the way, I discovered a totally new way to sew a mask. It is so simple that it does not require a pattern, and the only sewing skill that you need is sewing straight lines. I am making masks in this way and think that it is so much faster than the previous ones (the classic fitted mask and the folded mask).
The fit of this style is similar to the folded mask, and it is easy to add a pocket for filter.
Let's start making this new style of mask – I name it The Easiest DIY Face Mask Ever!
What you'll need:
1. 2 pieces of fabric with dimensions below:
– Female face: 17.5cm x 20.5cm (6.89in x 8.07in)
– Male face: 21.5cm x 23.5cm (8.47in x 9.25in)
– Kid's face: 15cm x 18cm (5.9in x 7.1in)
You can also use one piece of fabric and cut it on fold.
2. Nose wire (10cm/4in long)
3. Elastic cord (2 x 12.5cm/5in). You can replace it with strips cut from an old T shirt, or bias tape, or whatever you can get your hands on.
If you are looking for materials to make face mask, visit our little store here:
We have plastic nose wire, elastic, non-woven fabric for filters, anti-microbial fabric masks, hand made fabric masks to meet your needs. All items are ready in stock and will be shipped from Toronto, Canada. Same day shipping for orders before 3:00 PM. Free standard shipping for orders from US$75.00.
Step 1: Cut the fabric of your chosen size.
Step 2: Place the pieces right side facing and sew around, leave a small opening.
Step 3: Clip the corner and turn the mask inside out.
Step 4: Insert the nose wire through the opening (you can skip this if you don't have one). Fold the opening in, hold the nose wire closely to the edge and topstitch all around.
Here's how it looks after topstitching.
Step 5: Divide each side of the rectangle into 4 equal parts. Fold the top and bottom edges of the mask to the center line and draw 4 lines as shown in the picture.
Step 6: Sew the 4 lines that you drew, backstitch to secure.
And this is the front.
Step 7: Attach a 12.5cm/5in long elastic cord to each side of the mask. You can replace elastic with long fabric strings and tie at the back of your head. The length of the elastic may vary depending on the elasticity of your material, so feel free to try before actually sewing it in.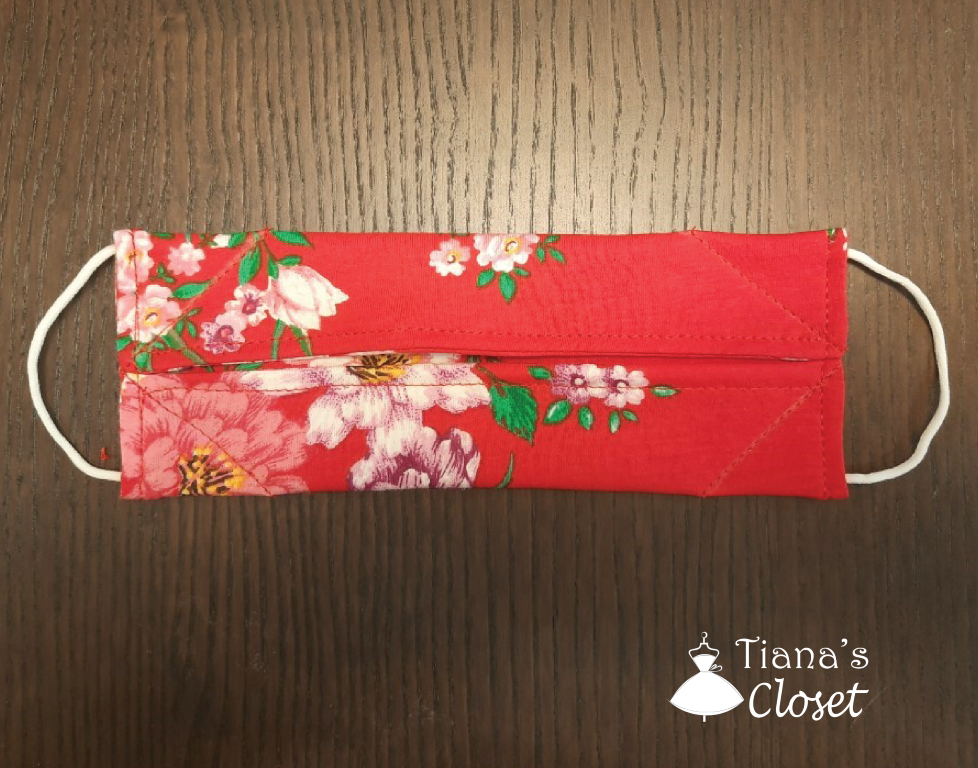 And voilà! You got it – the Easiest DIY Face Mask Ever. Do you believe me now? I bet you can never find any other easier one with this nice fit.
And here is a summary of the steps in case you want to save it to your device:
I also have a version of this mask with pocket. I have made a video tutorial of it here:
Now, grab your scissors and start cutting fabric. Masks for all!
Also, if you wonder what materials can be used to make face mask filter, read this post: DIY face mask filter materials
See my other posts in the DIY masks series here:
How to use your face mask the right way
Face mask filter materials – what can we use for DIY face masks?
Happy sewing, and stay safe!
Tiana
If you are interested in this post, please share: