The world is now falling apart with this hateful coronavirus. I read the news every day and find my heart heavy with more and more confirmed cases and deaths. And I feel even sadder with the attitude of many people. They stock up on all neccessity just like they are seeing doomsday. Many elderly cannot get the things they need because younger and stronger people collected them all.
My mother says this is the worst thing ever happens in her 70-year long life – not the pandemic, but the panic that causes shortage of face masks, toilet paper, instant noodles and other neccessities.
I feel that we need to share more. Don't rush to the supermarkets and grab all the toilet paper and hand sanitizers, leave some for people behind you. Don't act like there will be nothing left if you don't take some stuffs home. The stores will restock next day. You cannot use up a whole pack of toilet paper in just one day, right?
Now back to the main topic today.
The post that has most views on my blog recently is the one about face mask pattern. I know that it reaches people all around the world and feel so happy to see that I can help.
Many people sent me messages about not being able to follow my instruction to sew the mask because they have never sewn before. And I think I should look for a simpler pattern, one that requires less skill, and can still be protective against the (probably airborne) COVID-19 virus.
And there it is, the simplest pattern that I share with you today. It takes only a few minutes from start to finish.
The best thing about this mask is that you don't need a pattern to sew it. Just draw a rectangle with a few additional lines, and you are ready to sew. Please see the picture below for specific measurements.
Update March 23: Many asked for a pattern of the folded mask with pocket to insert filter fabric, so I updated the pattern and make a PDF file for it. You can download the file and print it out or draw according to the picture below (divide the number by 2.5 if you use inches instead of centimeters)
For adults, the dimensions are 26 cm * 17 cm (10.2in * 6.7in) . For big kids, the dimensions are 24 cm * 15 cm (9.4in * 5.9in). For smaller kids, the dimensions are 22 cm * 12.5 cm (8.7in * 4.9in). All these dimensions are for patterns with seam allowance included. The corners are cut the same for 3 sizes: a triangle with sides of 4cm (1.6in) off from each corner.
If you are looking for materials to make face mask, visit our little store here:
We have plastic nose wire, elastic, non-woven fabric for filters, anti-microbial fabric masks, hand made fabric masks to meet your needs. All items are ready in stock and will be shipped from Toronto, Canada. Same day shipping for orders before 3:00 PM. Free standard shipping for orders from US$75.00.
Download link: Folded face mask with pocket pattern
Friendly reminder: Don't ever think that having a mask means you are 100% safe from the COVID-19 virus. It only provides partial protection. Practice social distancing, personal hygiene, and wear masks the right way.
Sewing instruction:
This is the instruction for sewing the folded face mask with pocket. If you don't want to have pocket, skip the steps 2-3 and start from step 4.
Step 1: Cut 2 main pieces and 1 pocket piece. If you don't want the pocket, omit the pocket piece. Draw the lines as shown in pattern.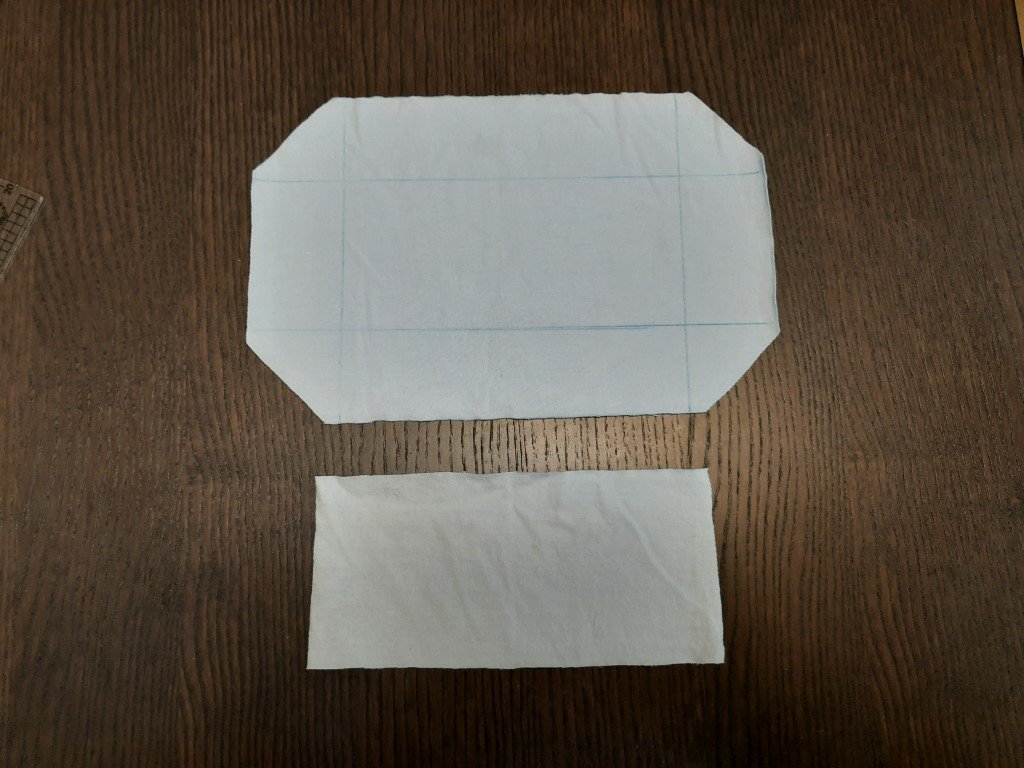 Step 2: Hem the short edges of the pocket piece.
Step 3: Align the pocket piece to the right side of the inner main piece (the layer touching your face). Sew along the long edges of the pocket piece. The stitches lie exactly on the drawn lines.
Step 4: Put the main pieces right sides together, sew along the black lines, leave small openings to turn the fabric inside out.
Step 5: Turn the fabric inside out, press to flatten it (if necessary).
Step 6: Fold the fabric along the markings and sew a line 0.5cm from the folded edge to secure it.
Step 7: Fold one short end twice to hide the raw edge, sew it to make a tube to insert elastic. Repeat with the other side.
Step 8: Thread a 25cm/10in elastic through each tube and tie it. Hide the knot inside the tube. You can adjust the length of the elastic if needed.
Tada! You've made it – a really simple and useful mask! You can see the pocket inside.
My friend made a bunch of them and really liked this design because it's easier and faster to make than the previous one.
This is how it looks on the face. Well-fitted and quite comfortable.
Hope you guys will love it. Don't forget that masks cannot 100% protect you from the virus. What you need to do is to refrain from going to crowded places, keep a safe distance from others, and most importantly, WASH YOUR HANDS REGULARLY and DON'T TOUCH YOUR MOUTH, EYES OR NOSE!!!
Stay safe, my friends.
Love,
Tiana
See my other posts in the DIY masks series here:
How to use your face mask the right way
Face mask filter materials – what can we use for DIY face masks?
If you are interested in this post, please share: