Wow, the world is now crazy with fear of the novel coronavirus, and as far as I know, in many places around the world, people are rushing to buy face masks. I have heard that Chinese people are stocking up on face masks in many countries – Korea, Japan, etc., and many pharmacies are out of stock!
I personally am against using the 1-time disposable face masks – you know the environment does not love it either. And although fabric face masks cannot guarantee 100% protection against airborne virus (even N95 masks can't), the normal face masks can partly protect you and people around you from the tiny droplets that coronavirus bearers spread out when they cough or sneeze. And because coronavirus are larger ones that cannot float in the air by themselves, they must travel with the droplets, so if they are blocked from touching your nose, mouth and eyes, the possibility of catching this virus is lower.
That is why today I am posting the pattern for face masks. I make a lot of fabric face masks for my family – my husband, my son, and me. We are happy with them, and as long as you keep them clean (wash right after use, or if you are more careful, boil them for 5 minutes to kill all the hateful viruses), and keep your hands clean (not touching your eyes, mouth or nose and wash your hands frequently with soap), you are not likely to catch the virus.
If you are not sure how to use your DIY fabric mask for best protection, check out my post "How to use fabric mask the right way".
And if you are looking for materials to make face mask, visit our little store here: https://fayrie.com/
P/s: If you are looking for a face mask to still feel beautiful and elegant while protected, I have a series of hand embroidered face masks – carefully made in Canada by my mom, my sister and me. We have a small Etsy store here:
https://www.etsy.com/ca/shop/FayrieCrafts
We have plastic nose wire, elastic, non-woven fabric for filters, anti-microbial fabric masks, hand made fabric masks to meet your needs. All items are ready in stock and will be shipped from Toronto, Canada. Same day shipping for orders before 3:00 PM. Free standard shipping for orders from US$75.00.
Now, let's start sewing to protect our family with my face mask pattern. I make it in three sizes: for adult male, female and for kids, so you can sew for any one you care about. The face mask is made with the shape and form of the 3D mask that fit the face perfectly.
As usual, print this pattern in full size on A4/Letter paper. Test with the test square before sewing to ensure best fit.
You can download a 2-page PDF file here: Fitted face mask (kids and adults)
UPDATE May 8, 2020: I have been asked about this face mask pattern with filter pocket, so I create a new pattern file for it. It comes in 4 sizes (babies 0-2y, children 3-10y, women/teens and men). You can download the pattern and sew with or without the filter pocket (I recommend you to take some more time with the pocket for extra protection). I will soon add a photo tutorial on how to make this face mask soon. The 5-page PDF file is here: Fitted face mask with filter pocket (4 sizes)
Here are some images about this mask. If you don't want to spend time sewing, we have it on sale here, along with other mask making materials: https://fayrie.com/
You can see the filter pocket here. Just put into it a piece of paper and discard after use.
Below is a video tutorial for this face mask. Hope you enjoy making this item!
Update March 3.2020: Many asked me for the instruction to sew this pattern, so I made a simple photo tutorial for those who do not know where to begin with this pattern.
This tutorial only demonstrates the steps of making basic masks, so please add more steps that you feel neccesary (for example, iron one or two layers of fusible interfacing on the fabric for more protection).
First, cut 4 pieces from your fabric of choice. In this tutorial I used my original pattern piece (without seam allowance) so I have to add seam allowance. If you use my pattern, you don't need to add seam allowance.
After cutting, you'll have two pairs of fabric like this (sorry the stretchy fabric curled up. I did not have much time to iron it.) You can always add a layer of filter for better face mask. Don't know which material to use as filter? Check out this post: Materials for DIY face mask filters.
Pick two pieces, align them right side facing each other. Sew along the pink dashed line (0.5cm from the edge).
Clip the curved edge.
Open the sewn piece and sew a flat felled seam.
This is how it looks after being sewn.
Repeat the steps above with the other pair of fabric. I sewed them wrong side together so you can distinguish the difference.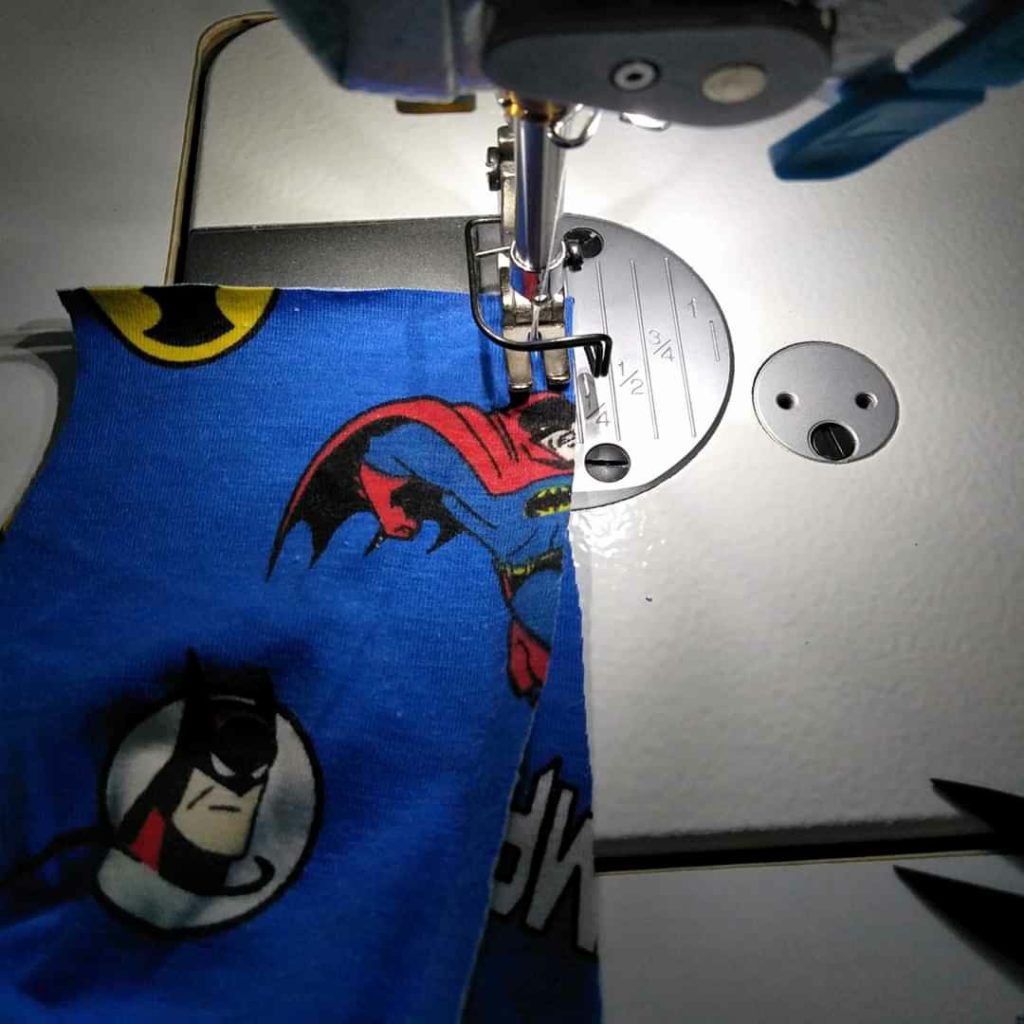 Now put the two pieces right side facing together and sew along the long edges, leaving the short edges open. Turn the fabric inside out like this.
Sew along the edge to make it sharper and more secure.
It will be like this after sewing.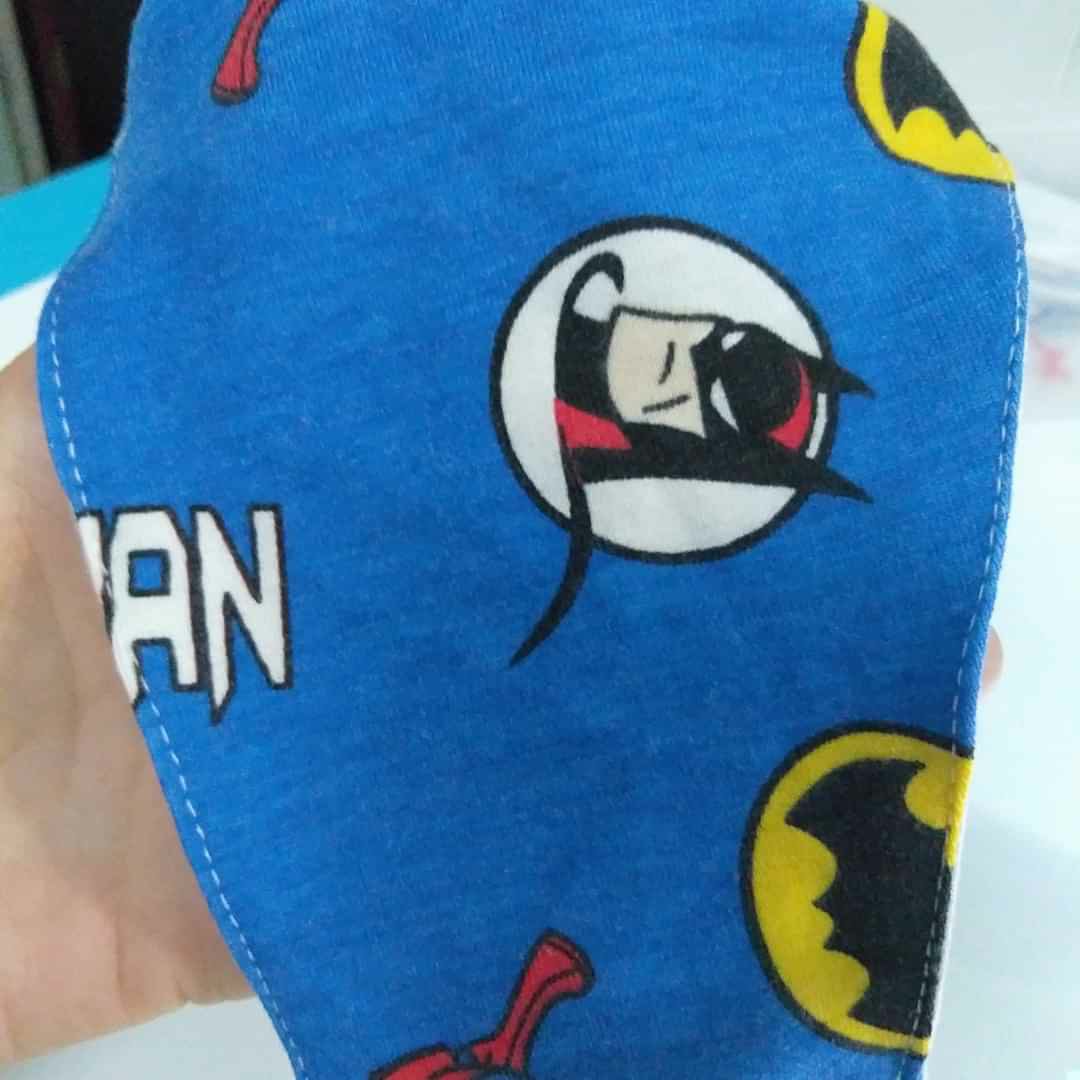 Fold the short edge two times to hide the raw edge.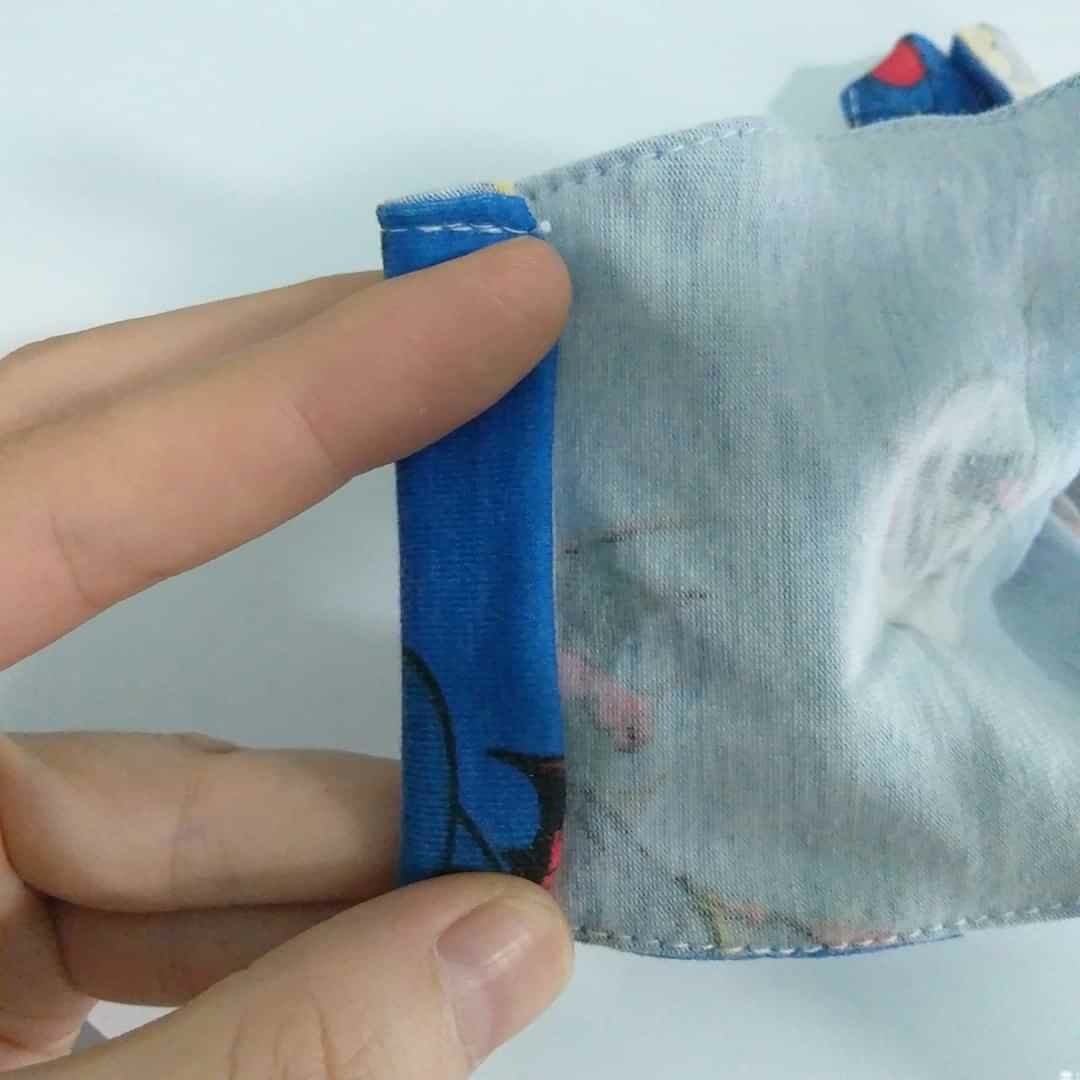 Sew it and make a tube to thread the elastic band.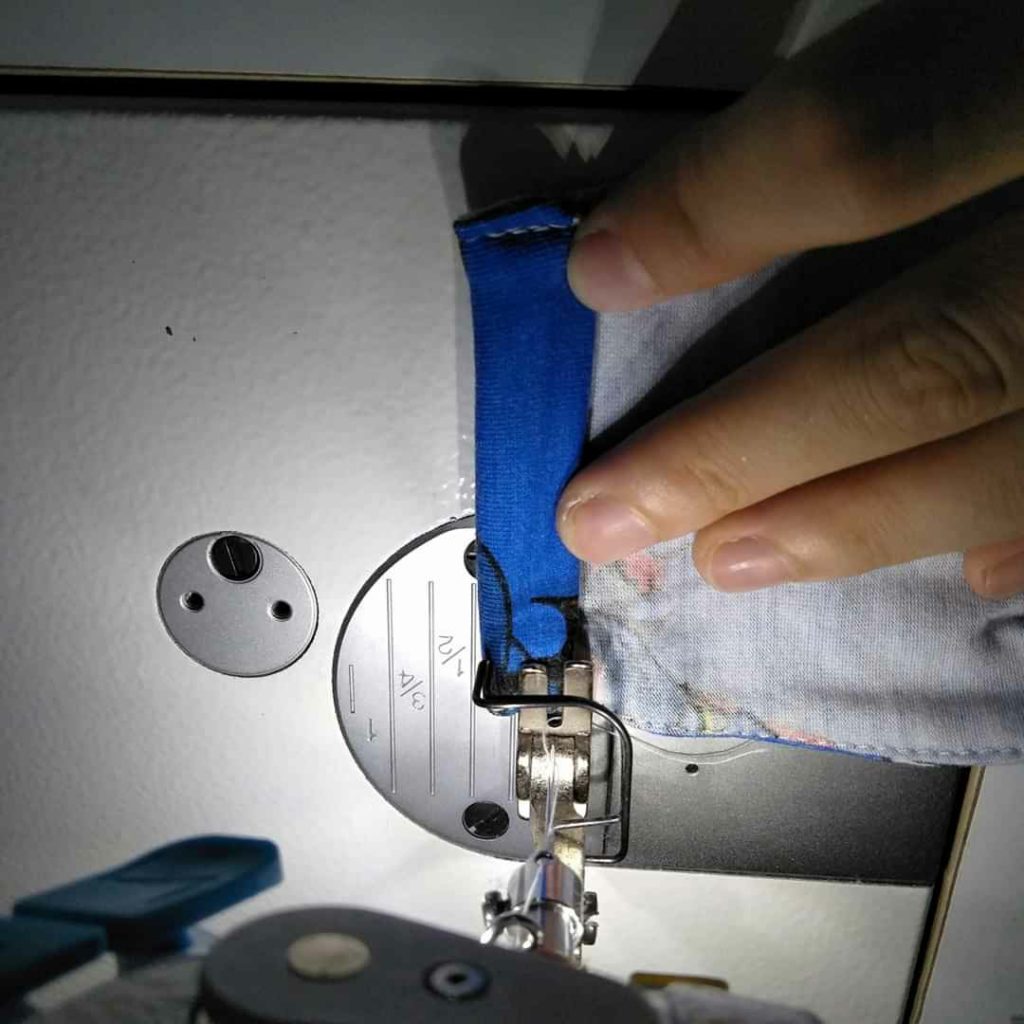 Thread the elastic band (about 25cm/10in long) through the tube and tie it. You can adjust the length after trying the mask on. Pull the knot inside the tube to hide it.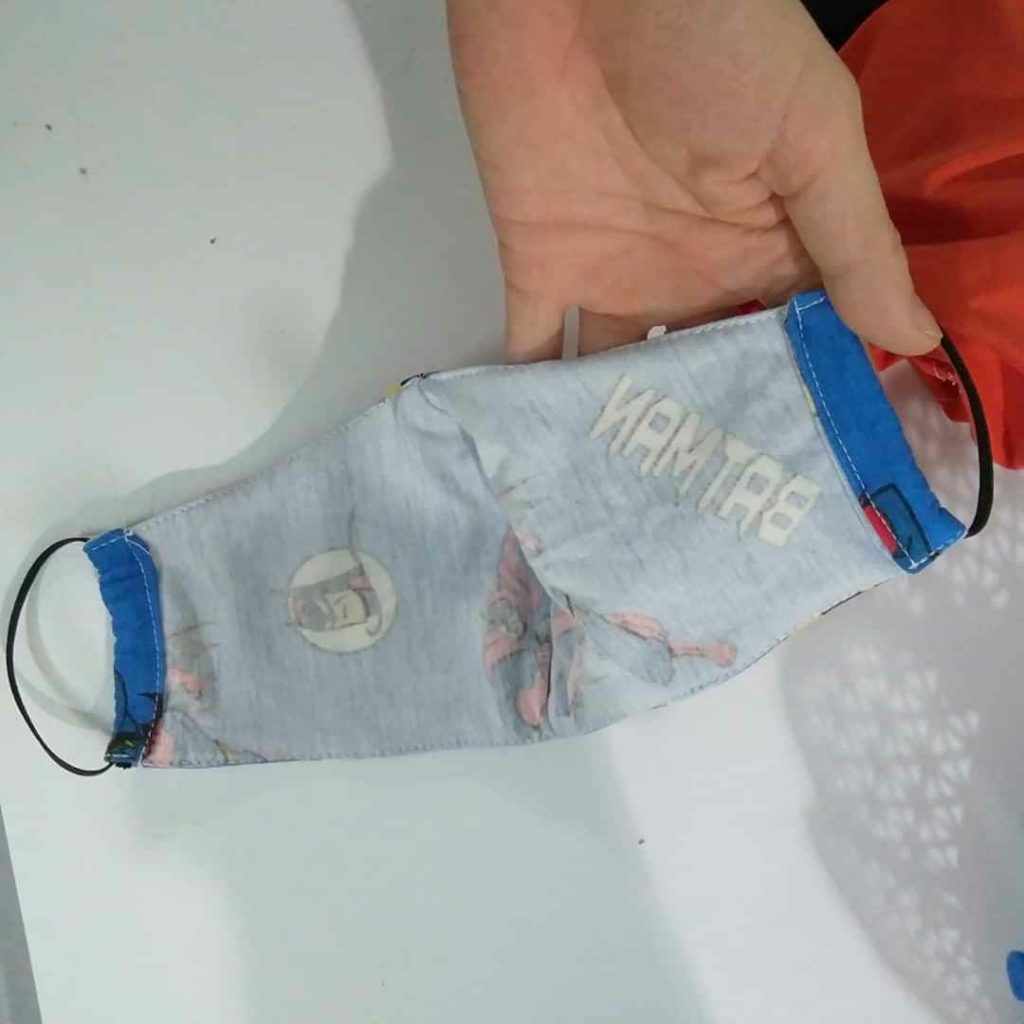 And here it is on my face. Sorry I made a quick one so it does not look very neat. But it really works.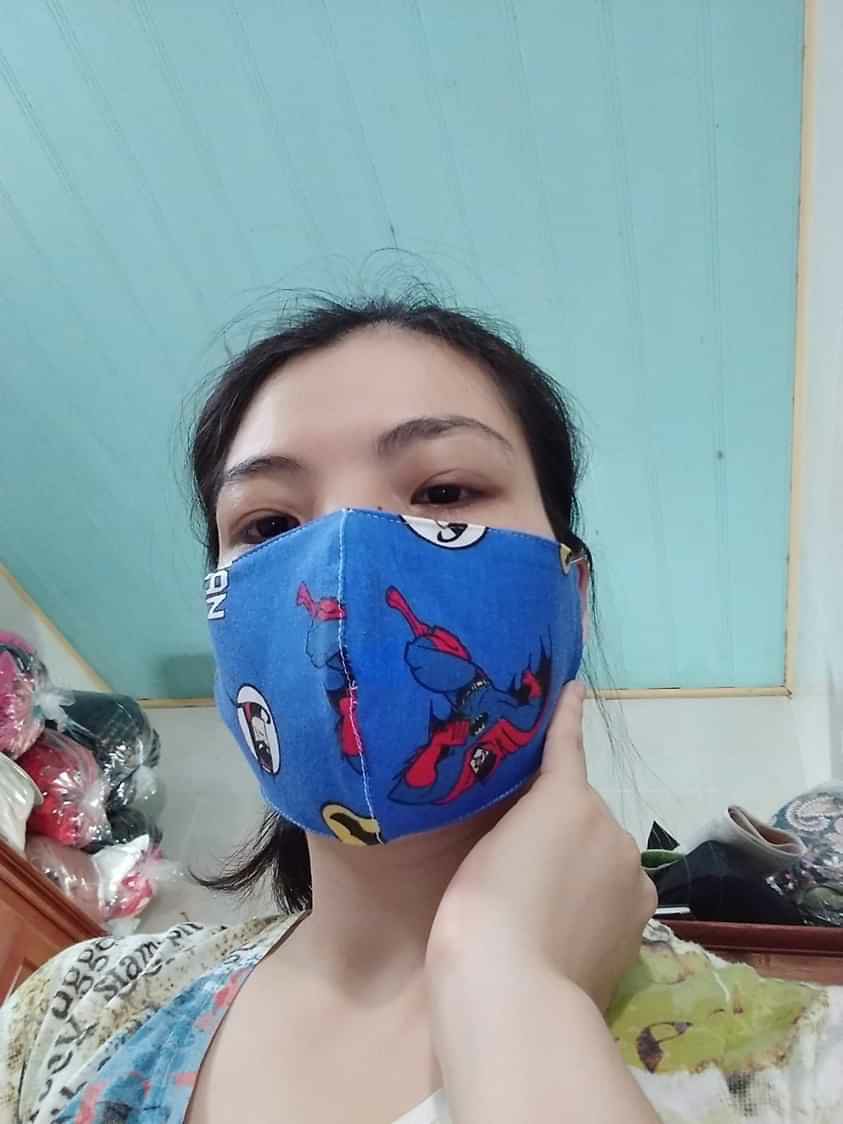 Happy sewing!
Tiana
See my other posts in the DIY masks series here:
How to use your face mask the right way
Face mask filter materials – what can we use for DIY face masks?
If you are interested in this post, please share: