The COVID-19 has been going on and does not have any signs of stopping, and we all must brace ourselves and get prepared to deal with it for a long time. Many readers told me that they cannot find mask making materials any where and must look for alternatives from the items in their homes.
Many people come to Tiana's Closet website looking for a pattern to sew their own fabric face mask to cope with the COVID-19 pandemic. And I am happy to provide at least 4 ways to sew masks, from the super simple one for those who only know how to sew straight lines, to more complicating one that requires some skills. See my other posts in the DIY masks series here:
How to use your face mask the right way
Face mask filter materials – what can we use for DIY face masks?
If you are looking for materials to make face mask, visit our little store here:
We have plastic nose wire, elastic, non-woven fabric for filters, anti-microbial fabric masks, hand made fabric masks to meet your needs. All items are ready in stock and will be shipped from Toronto, Canada. Same day shipping for orders before 3:00 PM. Free standard shipping for orders from US$75.00.
However, I have been receiving emails from readers who do not know how to sew at all, asking me if I know a way to make a face mask without sewing. And I realize that "Oh, there are many people out there who never touched a needle, let alone sew their own mask." And although I know many people are sewing masks to give, many more people do not have access to a mask – or they have to wait for their masks to arrive, and as far as I know, delivery is now slower than ever due to the COVID-19 virus.
Then what do we do if we don't have a mask, and do not know how to sew AT ALL?
I have the answer for you, let's make a no sew face mask! It is not as good as a sewn face mask, but it can help you survive the days you wait for your mask to arrive (or until you learn how to sew).
The no sew face mask is really simple and can be made in a few steps.
WHAT YOU NEED:
– A handkerchief 10in x 10in (or scarf, bandana, square piece cut from your T shirt, etc)
– Two rubber bands (alternatives can be found at the end of the post)
HOW TO MAKE A NO SEW FACE MASK
1. Lay the handkerchief flat on the table (or the floor).
2. Fold one side of the handkerchief to the center line. Repeat with the other side. Now you get two ends meeting at the center line.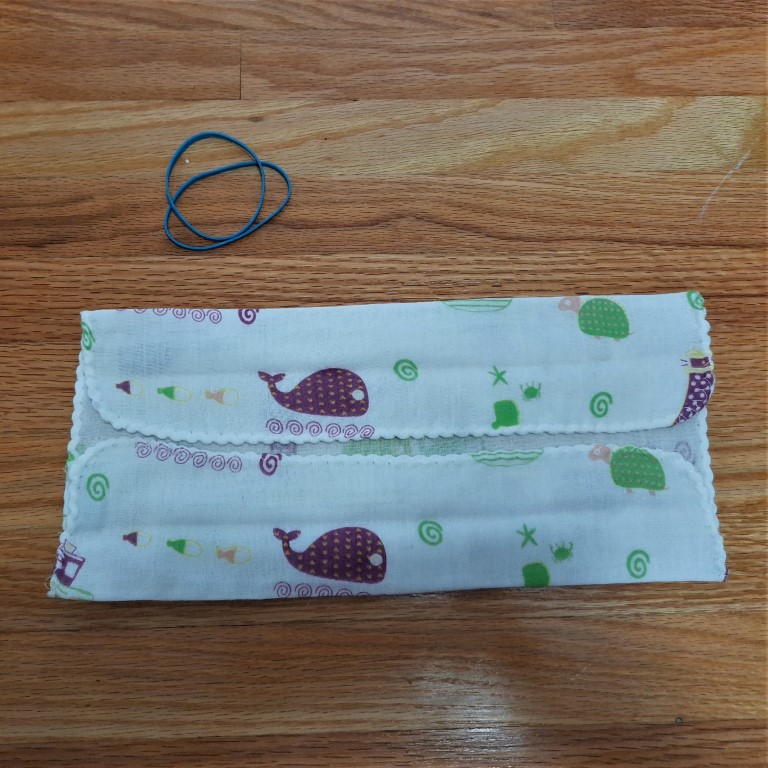 3. Fold the handkerchief again like in step 1.
4. Put the rubber band through the short ends of the folded handkerchief and fold the short ends towards the center.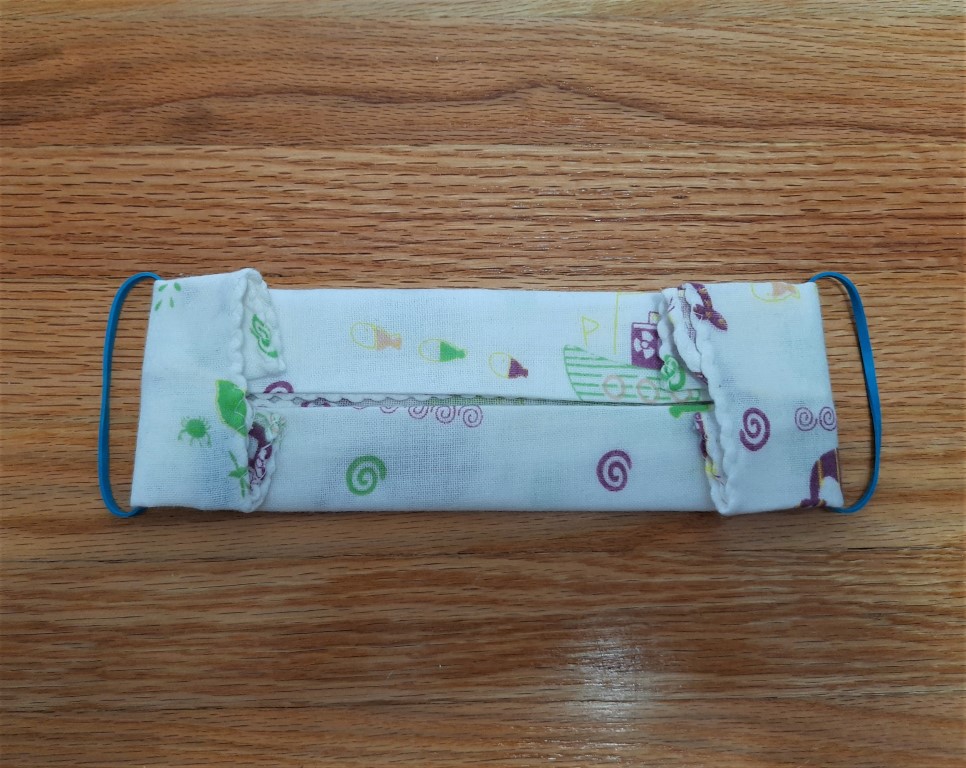 Now you got it, the no sew face mask! Simple, huh? It fits quite well, similar to my folded face mask. But you will need to re-make it every time you use it.
To put the mask on, you will need to put the folded mask on your face and pull the ear loops to your ears, then gently pull the flaps towards your nose and your chin.
Ta-da! Now you have your own no sew fabric mask. It only takes you about 1 minute to make one, with the items you have ready in your house.
One great thing about this mask is that you can add filter! Just cut a piece of filter about 2.5 inches wide, 5 inches long and put it into the inner side of the face mask just like you do with a mask with filter pocket, and you got extra protection!
Of course, some may ask me, what if I do not have a handkerchief or rubber bands? I have come up with a few alternatives below:
ALTERNATIVES TO HANDKERCHIEF
– An old T shirt
– Bandana, scarf
– Any fabric item with rectangular shape, choose jersey or knitted fabric so that it does not fray
Any kind of fabric will work, as long as you cut them into a square of 10in x 10in.
ALTERNATIVES TO RUBBER BAND
– Strips cut from old T shirt – pull them so they curl to themselves and make them look similar to a round elastic cord.
– Strips cut from pantyhose, tights or leggings
– The elastic cuffs of socks
– Hair bands
Any alternative materials must be soft and elastic, because they will hang on your ears. I prefer strips from T shirt and pantyhose best, because they are softest and most elastic.
Love,
Tiana
If you are interested in this post, please share: