Tiana's Closet offers layered PDF sewing patterns, and you can download only one file for all sizes and choose just their desired size to print out.
PDF Layer is a feature that allows some content to be made visible or invisible in the PDF files. Its uses include PDF overlays, having alternate languages appear and adding details to diagrams. Now instead of printing a single layered PDF file with all sizes displayed (which is very messy and complicating), you can print a layer of your choice to have clean pages which is much easier to use.
Now, let's see you you can print a layered PDF file. I recommend you to use applications like Foxit PDF Reader or Adobe Acrobat Reader.
Tiana's Closet sewing patterns are made to be printed on either A4 or Letter sized paper, so you can print it using almost any kind of home printers.
For those who use Foxit PDF Reader:
This is how it looks when a layered PDF file is opened with all layers displayed.
Now you click on the Layer icon on the left of the screen. You will see a list of layers which are the sizes in the pattern file. For this pattern, I have 10 sizes from XXS to 5XL, and they are all checked so they are displayed on the screen.
To hide the sizes that you do not want to use, just uncheck the box next to the names of the layers. For example, I want to print just size S, so I will uncheck all other sizes. The layer named "Print for all sizes" must be checked all the time because it contains all the information needed to use the file.
You will see that the file looks much cleaner without unwanted sizes (for example, I uncheck all the sizes except for the XXL size that I desire).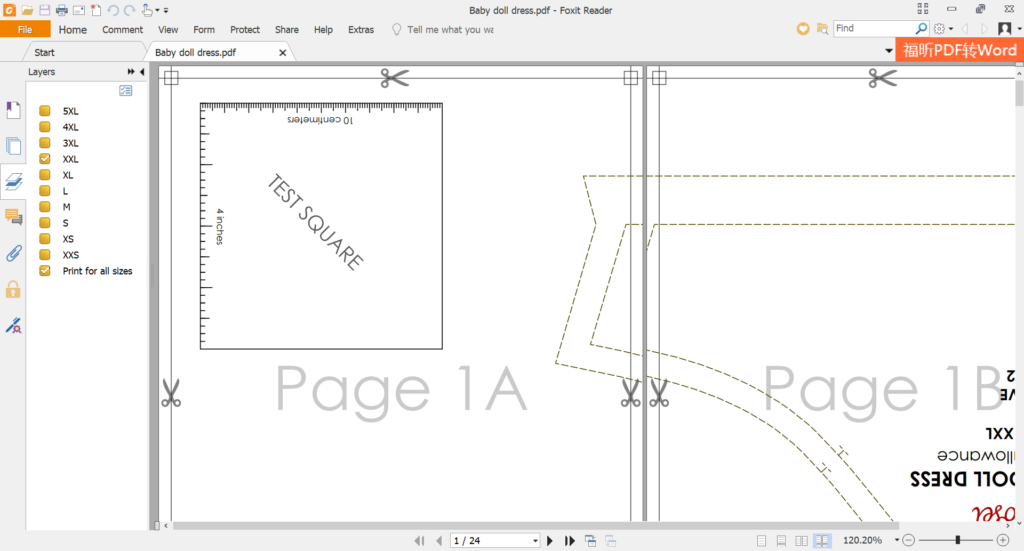 Now just click Print, choose print at actual size or 100% scale and you will get the pattern ready!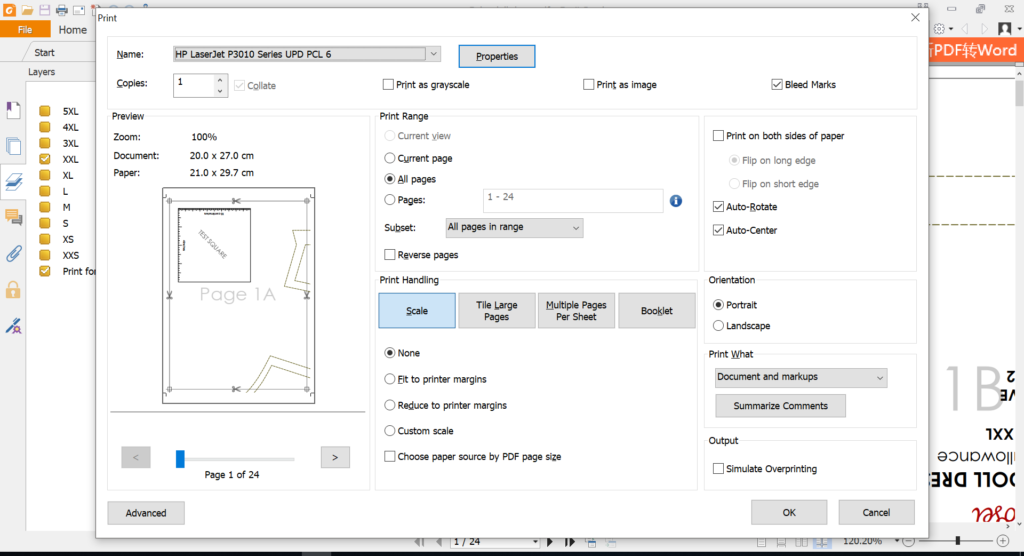 If you are not sure whether you have the right paper size, click the Properties box next to the Printer name, choose A4 or Letter in the Paper sizes drop-down list, click OK, and print the pattern. You should always print the first page (the one with the test square) first, measure if it has been printed true to size before printing out the whole pattern.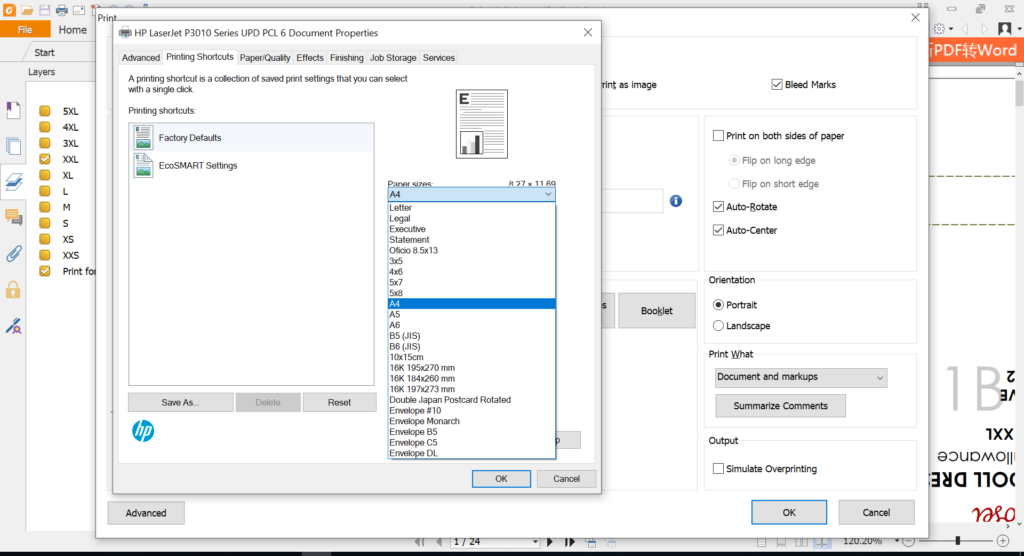 For those who use Adobe Acrobat Reader:
It is similar to printing layered PDF files in Foxit Reader. Open the PDF file, you will see all layers are displayed: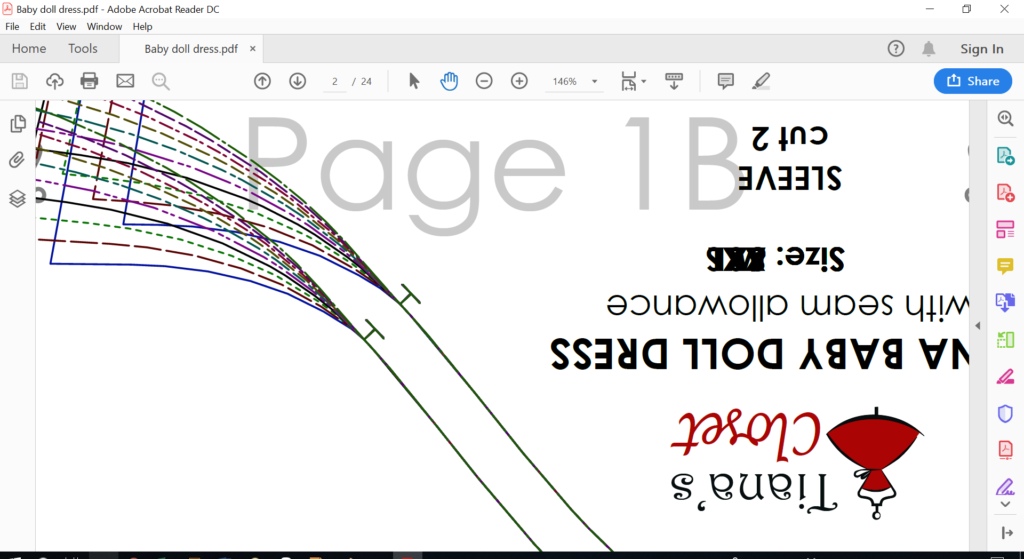 Click on the Layers icon on the left of the screen, you will see the list of layers – each layer is one size. The print for all sizes contains all information needed so it must be checked all the time.
Uncheck all unnecessary sizes, leave the one you desire (here I choose size XXL).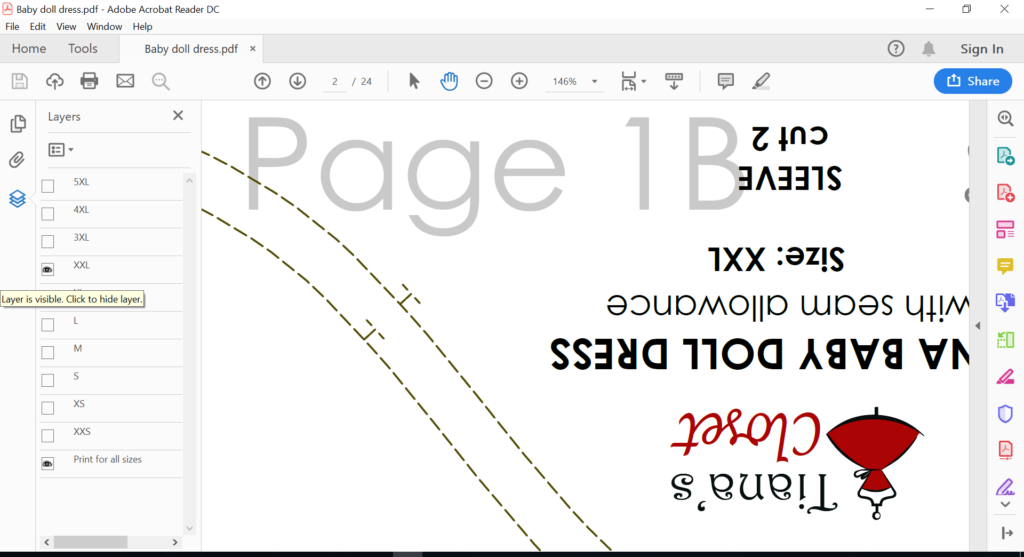 Click Print (or shortcut Ctrl+P) to print the pattern. Choose Actual size (or Custom scale: 100%) to print out actual size. Check in the Printer Properties to see if the paper size is set to A4 or Letter size.