My dear readers,
During recent days I have witnessed a dramatic increase in number of visitors to my website, most of them look for ways to sew their own masks to protect themselves, their beloved ones and the frontline workers who are fighting the coronavirus. I have also participated in a small group sewing masks and other PPE for the community and local frontline workers.
One of my friends talked about the shortage of PPE, including masks and protective suits. Many hospitals will be out of these important equipment in the near future. She asked if I – as a patternmaker – can provide the sewing group with pattern for protective suit, just like I did for the masks. And of course, I am happy to help!
I realize that the needs for protective suits is increasing day by day, and I think that sharing it for free would be a good idea. So, today, after giving the pattern to my community, I am sharing it with you, hoping that you can sew it not only for yourself, but also for all the brave frontline workers who are trying their best to protect the whole community.
Protective coveralls are generally made of light waterproof fabric to prevent any droplets from touching the wearer, thus protect them from infection. The COVID-19 virus travels with droplets let out when virus contractors cough or sneeze, and cannot float in the air, so when people wear proper PPE, they are less likely to get infected.
To us normal people who are not working directly with COVID-19 patients, a set of protective coveralls is not that necessary – unless you are travelling on a flight. I have seen pictures of people wearing this kind of coveralls, masks, gloves and glasses on a flight from Europe to Vietnam. Looks funny, but it's not funny at all. Everyone is at risk, and noone wants to get this hateful virus.
Because this is the pattern for a coveralls, it is quite big, so I created a version for larger paper size – A0 paper. You can bring the pattern to the copy shop and ask them to print the pattern out to save time cutting and taping pages together. Of course, you need to do all the necessary preventive measure when going out.
This pattern is quite simple, it includes 3 pattern pieces: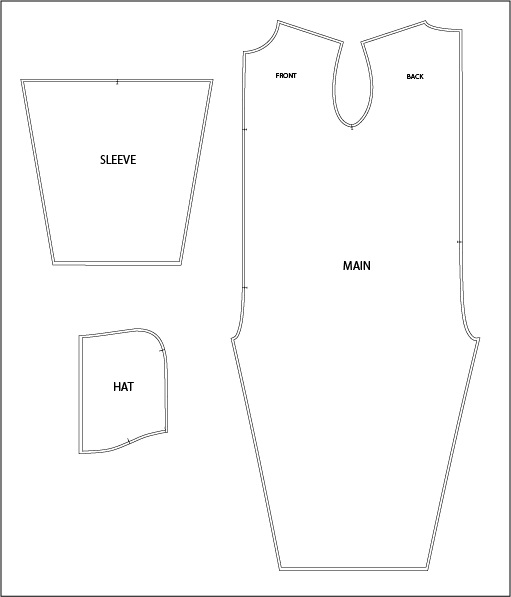 A. Main piece – cut 2
B. Sleeve – cut 2
C. Hat – cut 2
Because of the slouchy nature, I only make 6 sizes for these coveralls. You can decide your size by seeing the maximum measurements below:
Download link
Protective coveralls (A4/Letter paper)
Protective coveralls (A0 paper)
Printing instruction: Please see this post if you are not sure how to print the pattern out.
For those who are new to sewing, the process of sewing these coveralls is also simple. I will make a video to demonstrate the sewing process when I have time (hopefully soon).
1. Sew the inseam (the leg).
2. Turn one leg inside out, push it into the other leg, pin them right side facing and sew the very long seam from the nape of the neck to the front belly part. Insert zipper to the front bodice.
3. Pin the shoulder part right side facing (many friends of mine pinned wrong side facing and had to do it over again, so I think I need to repeat). Sew the shoulder seams.
4. Sew the sleeve seam. Attach the sleeve to the armhole (no worries about front or back, because the sleeve is the same for both sides). Sew the sleeves to the armholes.
5. Place two hat pieces right side facing, sew the hat. Sew the seam of the hat. You can sew a small tube and insert an elastic to make the hat fit more closely to the face.
6. Attach the hat to the neckline. See the notches? Match them with the shoulder seam. Sew the hat in place.
7. Sew the hemline for sleeves and pants. Attach elastic bands so that they fit closely to hands and feet.
Then you are done! It takes some time to finish this protective coveralls, but it definitely worthy. I have a plan to sew one for each of my family members. You never know what will happen next.
And of course, if your local hospitals and communities need, share with them this pattern! I am happy to help.
Stay safe,
Tiana
If you are interested in this post, please share: