After a long time sharing patterns for ladies, I have been asked by a few readers about a beginner pattern for gentlemen. As a result, I am posting today the pattern for men's basic round neck T-shirt.
This design features a regular fit, round neckline and short sleeves. It is a favorite item for those who love simple style. Personally I love wearing my husband's T shirt because they are slouchy and comfortable. I bet many of you do feel the same way.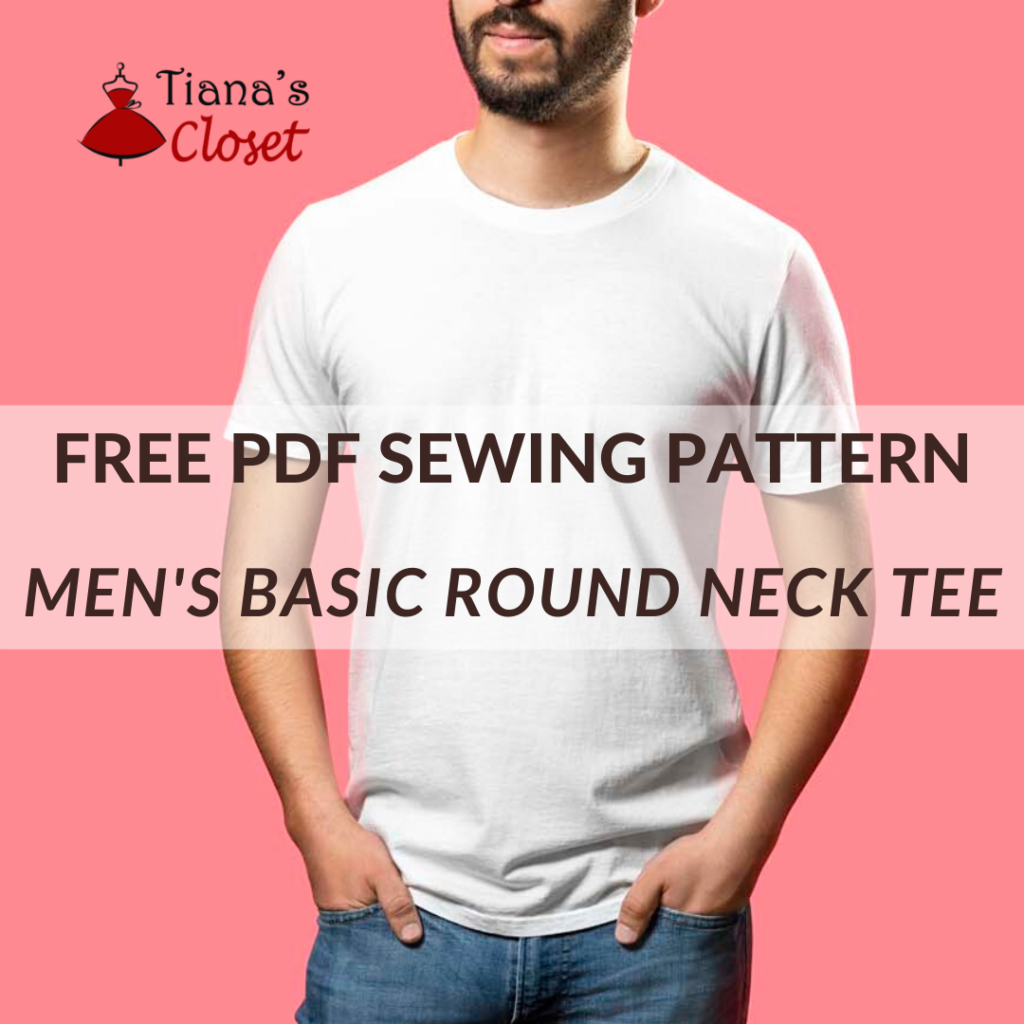 This must be the must have item in all men's wardrobe, and I believe anyone will be happy making it. It does not require much skills – but of course if you choose stretchy knit fabric, you need to know how to work with this tricky material. I will come back with a guide to sewing stretchy knit fabric when I have time (not today, though).
The basic T shirt can be made with various materials, but mostly stretch jersey fabric, made of cotton or natural fibers which are breathable and gentle to the skin. It can also made of special materials when used for sport activities like running or tennis.
As usual, the pattern is made in layered PDF format, and you can have all sizes in one file and choose to print only your desired size. You can check the Printing Guide for more information on how to print a layered PDF file.
After cutting and taping all the pages together, you will have something similar to this (I chose size 5XL as sample):
The pattern consists of 4 main pieces:
A. Front – cut 1 on fold
B. Back – cut 1 on fold
C. Sleeve – cut 2
D. Neckline binding – cut 1 on bias
This is a beginner project, and you only need some sewing skill to make yourself (or your loved one) a nice T-shirt. The garment can be made in just a few steps.
How to sew the basic T-shirt
Print and cut out the pattern of chosen size according to the instruction.
Lay fabric flat on the floor or table, place the pattern pieces on the fabric, pin and cut out each piece.
Place front and back piece right side facing, sew the shoulder seam and the side seams. Serge the seams (you can skip it if it is a stretch fabric that does not fray).
Sew the seam of the sleeves.
Turn the sleeve inside out. Pin to the armhole so that the notches match, and the right sides of fabric pieces face each other. Sew the armhole seam.
Iron the bias binding. Fold it in half (right side out). Pin to the right side of the neckline. Sew to finish the neckline binding. Turn the neckline binding in and sew a flat felled stitch on the main garment.
Hem the T-shirt.
And here is the download link: MEN'S BASIC ROUND NECK T-SHIRT (US SIZE XS-5XL)
This pattern comes in 9 sizes from XS to 5XL (standard US Letter Size for Menswear), which means it fits gentlemen with chest measurements from 33 inches to 64 inches. Please choose your regularly used size for the pattern.
Happy sewing! Hope you will like this simple project!
Love,
Tiana
If you are interested in this post, please share: