Leggings are an essential wardrobe item for all seasons, and they are great for people of all ages. You can find leggings in just about any clothing store, but you may want to make your own for a custom fit or a unique design. To make your own leggings, you will need some basic sewing skills, a sewing machine, and a few other special materials.
I have been receiving requests to make leggings patterns from beginner sewers who love to make active wear, and today I am sharing the most basic leggings pattern. This pattern features a wide waistband which may help with shaping your tummy.
As usual, my pattern is made in 10 sizes from XXS to 5XL, so you will find yourself a suitable size. You can also lengthen or shorten the hemline to get your desired size. Also check your size before doing anything here: SIZE GUIDE.
The pattern is made using layered PDF, please check for your desired size before printing so you won't waste your paper. I have included a first page with many details about sizing and printing, so please first read the first page and make sure you know what size you need! If you still do not know how to print a layered PDF, please check for the printing instruction in this post: PRINTING GUIDE.
You can print this using your home printer and A4/Letter paper. I calculated the printing area so that you will be able to use either type of paper to print the pattern out perfectly. Always print the first page first and check with the test square if you are printing at the right scale before you print out the whole pattern – avoid waste of ink and waste of paper, save the earth!
Some PC may print smaller than actual size even when you choose 100% scale – I don't know why this problem exist, but my HP laptop cannot print true to size. I have to scale up to 103% to get the right size. You may need to check with your PC to see if it prints true to size, if not, scale up a bit.
SEWING INSTRUCTION
You will need
Fabric of your choice
Scissors, pencil or fabric marker, ruler, pins
Sewing machine/Serger or needle and thread
Printed pattern
What fabric can be used for this project? This design is meant for stretch fabric. Only use stretch fabric or else it won't fit.
A stretch fabric works best for making leggings, so opt for a stretch jersey, spandex, rayon with lycra, or some other type of stretchy fabric. You will need about 2 to 3 yards (1.8 to 2.7 m) of fabric depending on your size. If you are making leggings for a baby or toddler, then you will only need about 1 yard (0.91 m) of fabric.
Cutting instruction:
After printing out and taping all the pattern pages together, you will get something similar to this image: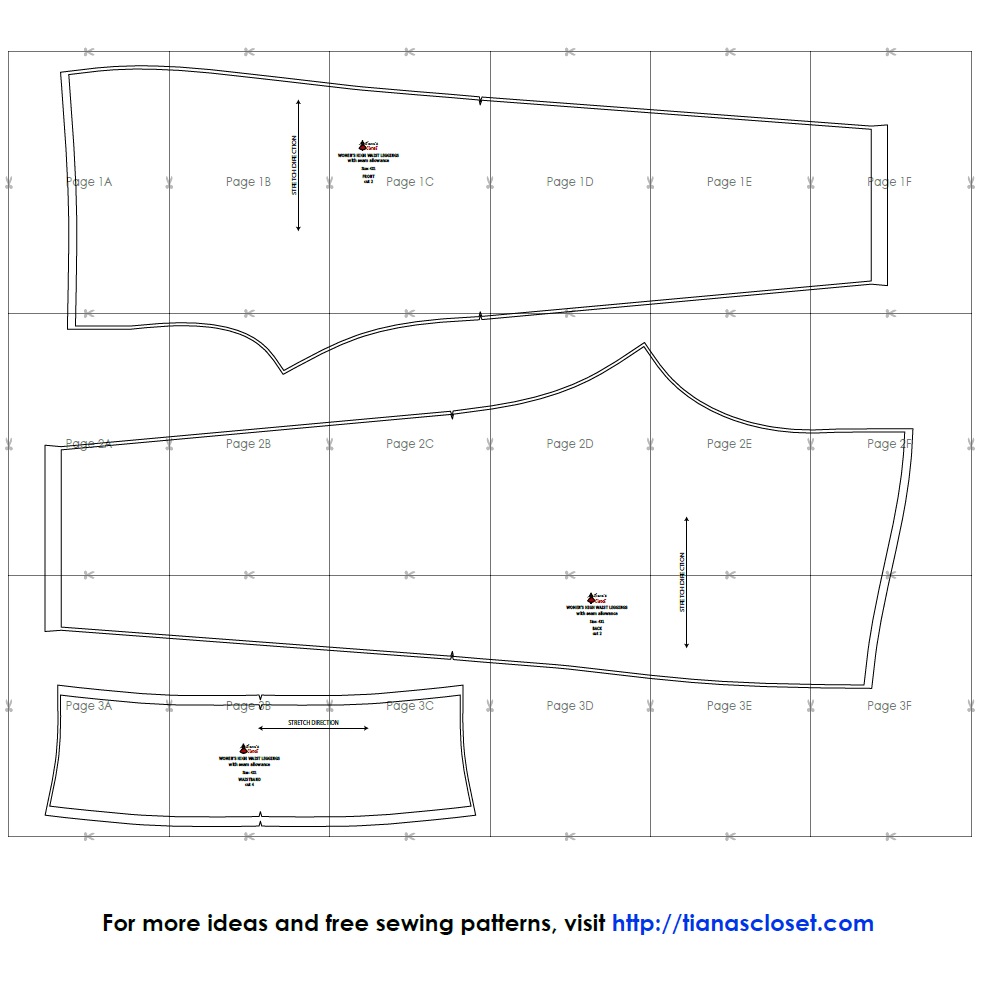 You will see that there are 2 sets of lines on each pattern size. The inner lines are sewing line (and you sew along these lines), and the outer lines are cutting lines (you cut the fabric along these lines, remember the folding lines where you have to fold the fabric before cutting). The distance between sewing line and cutting line is seam allowance, and it varies from point to point. For example, the side seam allowance is about 1/2 inch (1.2cm), and seam allowance at hemline is 1 inch (2.5cm). This is the reason why I do not remove the sewing lines from the pattern. Please use it as a guide to know how much seam allowance you need to give at each seam.
Fabric will be cut into following pieces:
Front: cut 2
Back: cut 2
Waistband: cut 4
Make sure to mark all notches and other design features such as darts, pleats etc. from the pattern pieces onto your fabric. When sewing the garment, pay attention to notches, they must match up.
Sewing instruction:
Because you are working with stretchy fabric, pay attention to the selection of stitch. You can refer to this article about sewing hacks for stretchy fabric: https://sewcanshe.com/how-to-sew-stretch-fabrics/
1. Pin along the inseam of the leg. Sew along the inseam.
2. Insert one leg into the other.
3. Sew around the edge of the crotch seam.
4. Place two mirror pieces of waistband right side facing, pin and sew the side seams. Repeat with the other pair.
5. Place two waistband pieces right side facing, matching the notches and side seams. Pin and sew the top of the waistband. Turn the waistband inside out.
6. Place the main garment and the waistband right side facing, matching the seams and notches. Pin and sew to join the waistband to the main garment.
7. Hem the bottom of the leggings.
And here is the download link:
WOMEN'S HIGH WAIST LEGGINGS (SIZE XXS-5XL)
Happy sewing! And don't forget to share your project on my Facebook page: Tiana's Closet Sewing Patterns
Tiana
If you are interested in this post, please share: