I think I may be too into making skirt patterns – it's the second skirt this month, and I feel so happy with it.
The scalloped hem has always been a beautiful addition to almost any item, from skirt, coat, top or dress, and although it may take you some extra time and attention when sewing this kind of hemline, it is totally worthy.
The Lisa scalloped hem skirt features a fitted upper skirt, and the gathered lower skirt with scalloped hemline. It falls just above the knee, and can be mixed with various types of tops.
I have made some 3D simulations about this beautiful skirt to help you imagine how it will turn out in real life: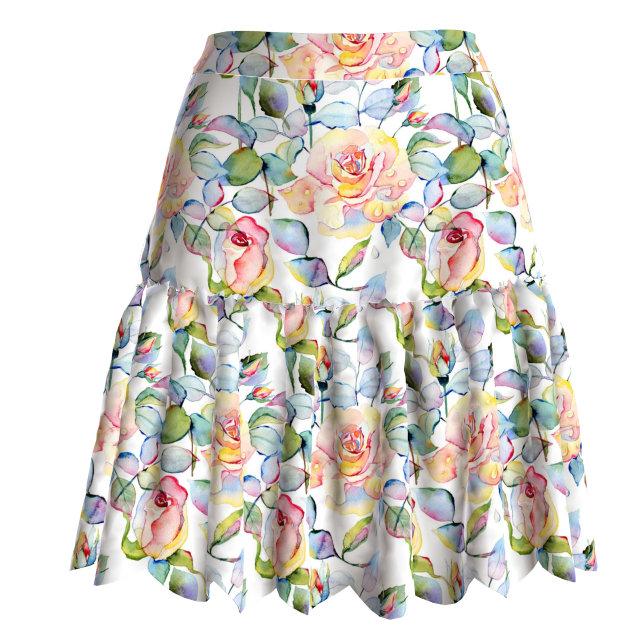 And how will it look like on the body? I mixed it with the Celine crop top that I made a while ago. Maybe I will repost this beautiful crop top on this page. It's just too stylish!
Here's the side and back view. I love you the skirt hugs the hips and flare at the bottom.
The pattern is made using layered PDF, please check for your desired size before printing so you won't waste your paper. If you still do not know how to print a layered PDF, please check for the instruction here.
You can print this using your home printer and A4/Letter paper. I calculated the printing area so that you will be able to use either type of paper to print the pattern out perfectly. Always print the first page first and check with the test square if you are printing at the right scale before you print out the whole pattern.
Cutting instruction:
After taping down all the pages following the instruction, the overall layout of the pattern pieces is like this:
The pattern pieces are to be cut as follows:
A. Upper Skirt – Front – 1pcs
B. Upper Skirt – Back – 2pcs
C. Front Waistband – 2pcs
D. Back Waistband – 4pcs
G. Scalloped Hem Flounce – 2pcs
H. Scalloped Hem Facing – 2pcs
This is the link to download this pattern: Lisa scalloped hem skirt pattern (size XXS to 5XL)
Happy sewing!
Tiana
If you are interested in this post, please share: