Hi guys, I'm back! How have you been doing? I have been investing quite some of my time indoors and feeling bored because of the hateful COVID-19. And the rain, too! It does not snow in Vancouver, it just rains~~
And if you observed the fun Groundhog day yesterday, you might see that Mr. Groundhog predicted there would be 6 weeks of winter left. Although I do not totally trust his prediction, I still believe some of us will continue to wear warm and comfy long sleeve shirts for quite a long time. Therefore, I decided that I should share this long sleeve T shirt pattern for those who still want to make cooler weather clothing.
The basic T shirt can be made with various materials, but mostly stretch jersey fabric, made of cotton or natural fibers which are breathable and gentle to the skin. It can also made of special materials when used for sport activities like running or tennis.
The pattern is made using layered PDF, please check for your desired size before printing so you won't waste your paper. I have included a first page with many details about sizing and printing, so please first read the first page and make sure you know what size you need! If you still do not know how to print a layered PDF, please check for the instruction here.
You can print this using your home printer and A4/Letter paper. I calculated the printing area so that you will be able to use either type of paper to print the pattern out perfectly. Always print the first page first and check with the test square if you are printing at the right scale before you print out the whole pattern – avoid waste of ink and waste of paper, save the earth!
Some PC may print smaller than actual size even when you choose 100% scale – I don't know why this problem exist, but my HP laptop cannot print true to size. I have to scale up to 103% to get the right size. You may need to check with your PC to see if it prints true to size, if not, scale up a bit.
CUTTING INSTRUCTION
After cutting and taping all the pages together, you will have something similar to this (I chose size 5XL as sample):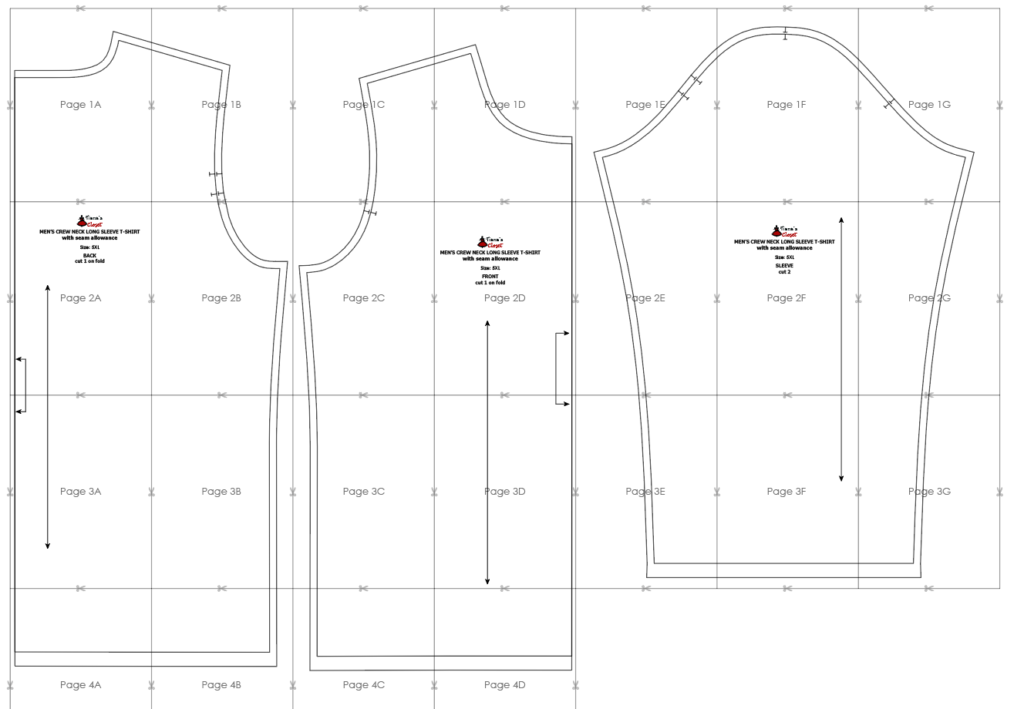 You will see that there are 2 sets of lines on each pattern size. The inner lines are sewing line (and you sew along these lines), and the outer lines are cutting lines (you cut the fabric along these lines, remember the folding lines where you have to fold the fabric before cutting). The distance between sewing line and cutting line is seam allowance, and it varies from point to point. For example, the side seam allowance is about 1/2 inch (1.2cm), and seam allowance at hemline is 1 inch (2.5cm). This is the reason why I do not remove the sewing lines from the pattern. Please use it as a guide to know how much seam allowance you need to give at each seam.
The pattern consists of 4 main pieces:
A. Front – cut 1 on fold
B. Back – cut 1 on fold
C. Sleeve – cut 2
D. Neckline binding – cut 1
This is a beginner project, and you only need some sewing skill to make yourself (or your loved one) a nice T-shirt. The garment can be made in just a few steps.
How much fabric do you need for this piece of garment? You may need to check how much fabric you need before buying. It will depend on the selected pattern size, the width, and design of the fabric you plan to use. Just to be sure, print all the paper patterns and lay them out at the width of fabric you plan to use (usually from 90 to 150 centimeters or 35 to 60 inches). Measure how much fabric you will need. Don't forget to account for pieces that need to be cut multiple times and pieces that are cut on the fold.
How to sew the long sleeve T-shirt
1. Print and cut out the pattern of chosen size according to the instruction.
2. Lay fabric flat on the floor or table, place the pattern pieces on the fabric, pin and cut out each piece.
3. Place front and back piece right side facing, sew the shoulder seam and the side seams. Serge the seams (you can skip it if it is a stretch fabric that does not fray). If you have an overlocker, you can combine these two steps into just one (I love my overlocker!)
4. Sew the seam of the sleeves.
5. Turn the sleeve inside out. Pin to the armhole so that the notches match, and the right sides of fabric pieces face each other. Sew the armhole seam.
6. Iron the neckline binding. Fold it in half (right side out). Pin to the right side of the neckline. Sew to finish the neckline binding. Turn the neckline binding in and sew top stitch on the main garment.
7. Hem the T-shirt.
And here is the download link: MEN'S CREW NECK LONG SLEEVE T-SHIRT (US SIZE XS-5XL)
This pattern comes in 9 sizes from XS to 5XL (standard US Letter Size for Menswear), which means it fits gentlemen with chest measurements from 33 inches to 64 inches. Please choose your regularly used size for the pattern.
Happy sewing! Hope you will like this simple project!
If you are interested in this post, please share: