I just found out a piece of dress that I really like: a hot pink Chiara Boni dress. It features a simple A line silhouette – but has puffed lace sleeve to make it look special. So I think I will make one for myself – and I share it with you today.
It is really easy to make, and the result? Just look how nice it is in the lookbook: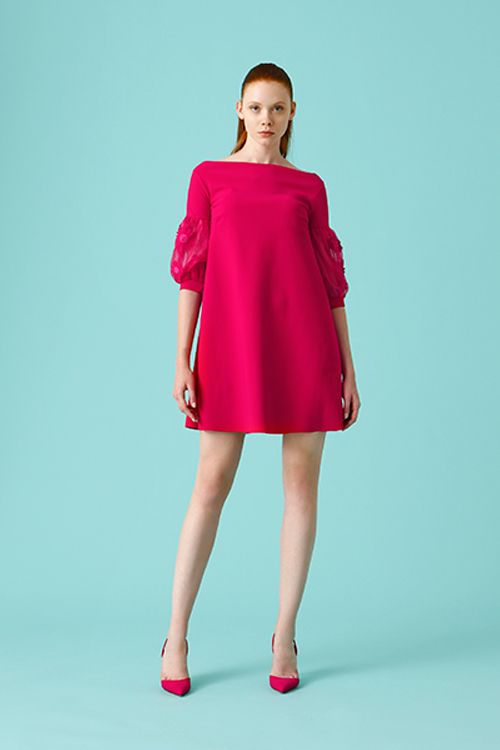 And here is my version of the dress – in 3D simulation:
What do you think about this? Nice for a day out, right?
The pattern is made using layered PDF, please check for your size before printing so you won't waste your paper. If you still do not know how to print a layered PDF, please check for the instruction here.
You can print this using your home printer and A4/Letter paper. I calculated the printing area so that you will be able to use either type of paper to print the pattern out perfectly. Always print the first page first and check with the test square if you are printing at the right scale before you print out the whole pattern.
Do you want to add side seam pockets to the pattern for additional convenience? Just go ahead because it is too easy, just follow the quick instruction here.
Cutting instruction:
After taping down all the pages following the instruction, the overall layout of the pattern pieces is like this (this is how it looks when you print all sizes – choose just your size for a less messy look):
The cutting instruction is for the garment with facings. If you choose to sew it with bias binding, skip the front facing and back facing pieces. If you choose to sew with bodice lining, skip the facing pieces and cut a set of front and back pieces in lining fabric.
A. Front – 1pcs
B. Back – 2pcs
C. Sleeve – Upper Part – 2pcs
D. Sleeve – Lower Part – 2pcs
E. Cuff – 2pcs
F. Front Facing – 1pcs + Fusible Interfacing – 1pcs
G. Back Facing – 1pcs + Fusible Interfacing – 1pcs
This is the link to download this pattern: Chiara puffed sleeve mini dress (size XXS – XXL)
Happy sewing!
Tiana
If you are interested in this post, please share: