Hi guys,
Today I am sharing the pattern for a staple piece in the closet for any girls, no matter big or small – the leggings, which are made of stretchy fabric and fit closely to the legs. I think there is no need to talk much about it – you know how much a good pair of leggings is needed to keep your girl warm and comfortable.
Feel free to create with these leggings, you should not limit yourself with only plain colored fabric – black, gray or any boring colors. Try floral or geometrical prints, you will be surprised how nice these basic leggings can be.
These leggings are at ankle length, with elastic waistband and close fit. Remember to choose stretchy fabric for this small project.
Below are some print examples that I have simulated in 3D:
The pattern is made using layered PDF, please check for your desired size before printing so you won't waste your paper. If you still do not know how to print a layered PDF, please check for the instruction here.
You can print this using your home printer and A4/Letter paper. I calculated the printing area so that you will be able to use either type of paper to print the pattern out perfectly. Always print the first page first and check with the test square if you are printing at the right scale before you print out the whole pattern.
Cutting instruction:
After taping down all the pages following the instruction, the overall layout of the pattern pieces is like below (I showed all layers here, so it will be a bit messy, just follow the instruction to print layered PDF for a clearer view):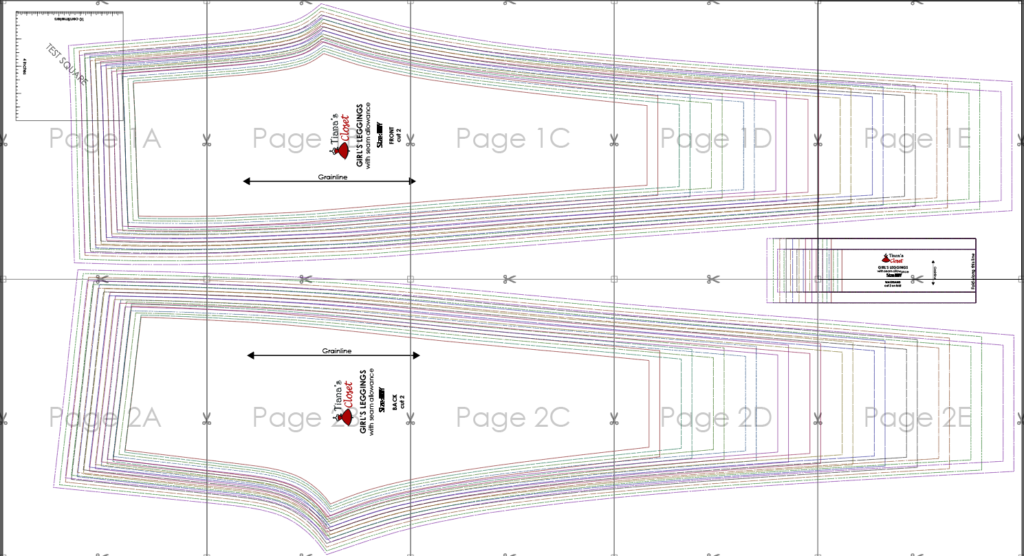 There are 3 pattern pieces to be cut as follows:
A. Front – 2pcs
B. Back – 2pcs
C. Waistband – 2pcs.
This is the link to download this pattern: Girl's leggings size 1 year to 12 years old.
Happy sewing!
Tiana
If you are interested in this post, please share: