Hi friends,
It's already August (so fast) and you can see major fashion houses have already loaded their fall collections. I think although it is still burning hot outside, it's time to start making patterns for milder weather. And I am going to start with a simple long sleeve top, which is a must-have in this kind of season, not too hot to wear sleeveless, but not cool enough to add another layer to your outfit.
This feminine Diana flounce sleeve pattern is a simple yet practical piece that you can easily mix with many other pieces like skirt, pants and jeans. It is a modest design, so you can be confident to wear it to work. Imagine yourself wearing this Diana top tucked in a pencil skirt. You will soften the office wear—a lot!
This is just a quick 3D simulation of the Diana top:
in red polka dot
… and in floral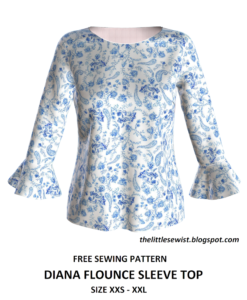 The pattern is made using layered PDF, please check for your size before printing so you won't waste your paper. If you still do not know how to print a layered PDF, please check for the instruction
here
.
You can print this using your home printer and A4/Letter paper. I calculated the printing area so that you will be able to use either type of paper to print the pattern out perfectly. Always print the first page first and check with the test square if you are printing at the right scale before you print out the whole pattern.
Do you want to add side seam pockets to the pattern for additional convenience? Just go ahead because it is too easy, just follow the quick instruction
here
.
Cutting instruction:
After taping down all the pages following the instruction, the overall layout of the pattern pieces is like this:
he cutting instruction is for the garment with facings. If you choose to sew it with bias binding, skip the front facing and back facing pieces. If you choose to sew with full lining, skip the facing pieces and cut a set of front and back pieces in lining fabric.
A. Front – 1pcs
B. Back – 1pcs
C. Sleeve – 2pcs
D. Sleeve Flounce – 2pcs
E. Front Facing – 1pcs + Fusible Interfacing – 1pcs
F. Back Facing – 2pcs + Fusible Interfacing – 2pcs
Happy sewing!
Tien the Little Sewist
If you are interested in this post, please share: